Designed specifically for use in the extreme environments of landfills, the LF120 HydroSeeder®, an exclusive FINN Landfill Solution®, is an efficient solution for applying alternative daily cover (ADC), as well as the application of materials to control odor, dust and erosion. Furthermore, the unit can be used as a mobile watering source to wash equipment, put out fires, and it can be used for other hydroseeding tasks such as re-vegetation and landscaping.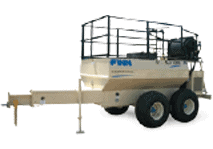 LF120 Hydroseeder®
Working Weight
18,377 lbs. (8,336 kg)
Power
Yanmar 3TNV88C-DYEM, 35.1 hp (26.2 kw) 3-cylinder water cooled diesel engine, Tier 4Final. 1.642L
Tank Size
1,000 gallon (3,785 L) work capacity / 1,180 gallon (4,468 L) liquid capacity
Pump
Centrifugal 4" x 2" (10 cm x 5 cm) 170 gpm @ 100 psi, (646 lpm @ 7 kg/cm2), 3/4" (1.9 cm) solid clearance, external adjustment
Discharge Distance
Up to 180 feet (55 m) from end of discharge tower
Durable, 1200 gallon capacity steel tank
Hydraulically-driven and reversible mechanical agitator, ordinarily found only on larger machines for fast and thorough mixing
Rugged, reliable mechanics for long life and easy maintenance
FINN designed centrifugal pump that handles the thickest of slurries with ease
Tower discharge distance reaches up to 180' for greater slurry application and efficient coverage
FINN's top-notch design, engineering and quality construction
Full deck railings and plenty of storage capacity to carry extra materials
High clearance, heavy duty tandem 10,000 lbs. rubber torsion trailer axle and mounting configuration to permit the unit to sit higher off the ground to maneuver around rough terrain and uneven surfaces
Extended and reinforced tongue on the trailer that is sturdy enough to allow the LF120 to be towed behind any piece of heavy equipment. This makes the unit versatile in transport and use.