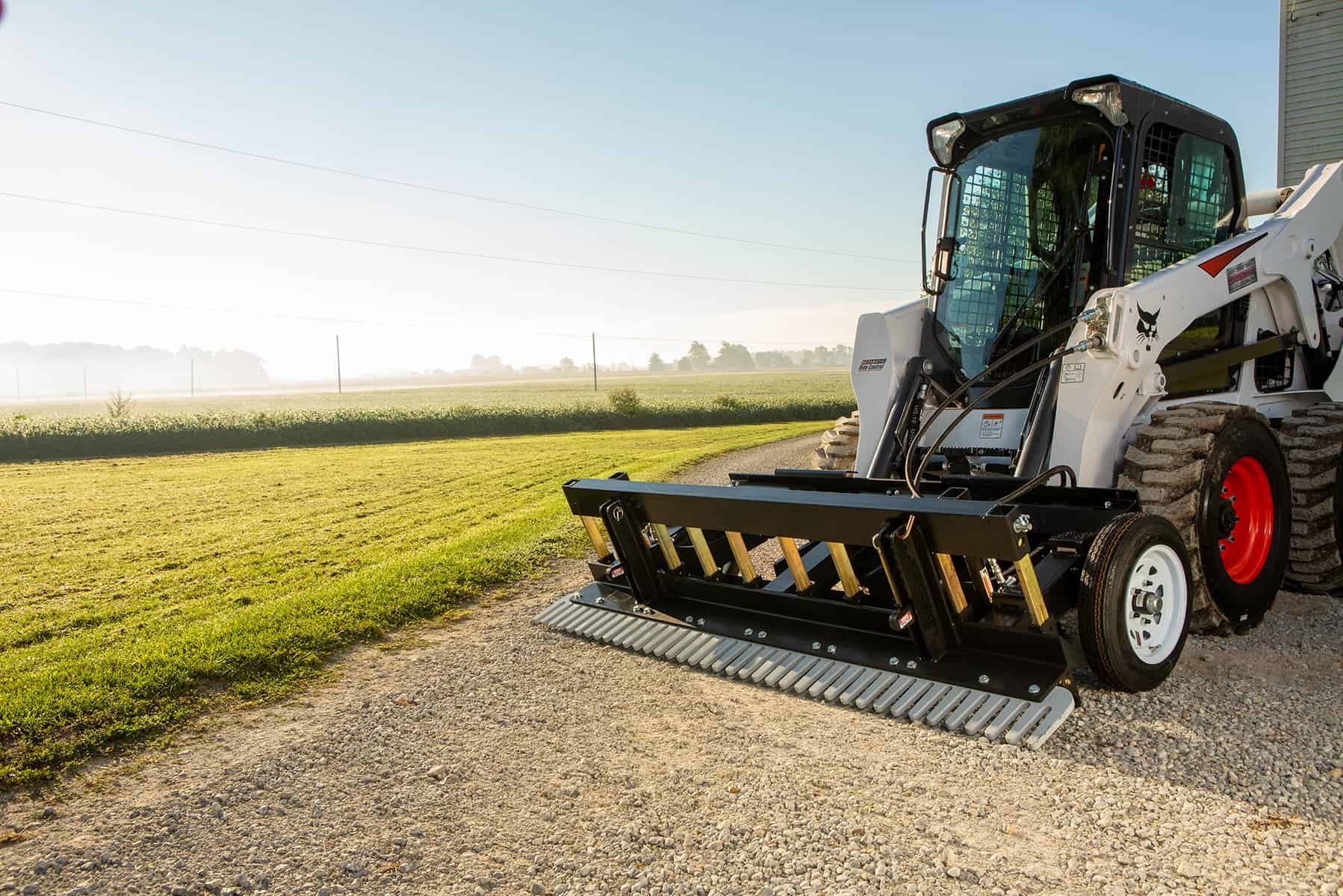 Preparing the ground for grass seed is an important step in ensuring a beautiful bed of grass. This phase is sometimes overlooked or rushed, but it is critical to ensure the seedbed is optimized for the hydroseeding slurry, grass seed or sod. Loose, level, debris-free soil creates a foundation for a healthy lawn, and ground prep attachments can help achieve these results more quickly and easily.
Not only do ground preparation attachments facilitate hydroseeding success, they're also helpful pieces of equipment to have around for a number of other uses.
Ground Prep Attachments for Successful Grass Growth
For successful growth, grass seeds require good quality soil suitable for the type of seed, sunlight, water, oxygen, minerals, nutrients and protection from weeds. Proper ground preparation will create an environment conducive for growth.
There are four basic steps to preparing ground for grass seed: clear, loosen, level and rake. Following these steps to work the top six inches of soil into a bed of clear and level pea- or marble-sized particles will produce the best results.
FINN Ground preparation attachments are designed to handle each of the hydroseeding prep phases with just one tool. With FINN, you don't need a truckload of tools — a FINN Ground Preparation attachment does it all. Available for skid steers, mini skid steers and tractors, ground prep attachments are able to clear terrain, loosen soil and level the ground to prepare for applying a hydroseeding slurry, grass seed or sod.
Minimize Labor and Time Needed to Prepare Ground for Grass Seed
While grass or other vegetation can grow in soil with rocks, sticks and other debris, removing as much of it as possible provides the best chance for the grass to grow successfully. Removing these eliminates potential barriers to vegetation growth, and ground preparation attachments are one of the most effective ways to clear large areas of soil. Because these machines are versatile, multi-purpose performers, you can clear a site and mix the soil quickly and effectively.
FINN ground prep attachments are designed to specifically to simplify the soil preparation process:
Speed: Ground prep attachments make quick work of removing grass, brush, trees and rocks while breaking up and leveling soil.
Easy to use: If you can operate a skid steer or tractor, you can use a FINN ground prep attachment.
Durability: FINN ground prep attachments are durable and strong, designed to tackle the toughest situations. From the frame to the foam-filled tires, these are often the toughest tools on a job site.
Results: FINN ground prep attachments deliver perfectly graded ground with loosened soil as deep as six inches.
Maintenance: The design of many FINN ground prep attachments makes maintenance fast and easy.
Savings: This one tool can clear, loosen, level and rake, allowing you to save space on your trailer, save time by not changing attachments, and save money by using a single tool that can truly do it all.
Ideal Models for Ground Preparation Jobs of all Sizes
FINN ground prep attachments are durable, multi-use pieces of equipment designed to clear terrain, level soil and break through the hardpan. With a variety of sizes, models and styles, FINN has ground preparation attachments capable of handling all types of jobs.
Each series comes in a pro and standard model, and both models do the same essential work. The difference lies in how the work is completed. The main differences between the pro and standard models are hydraulic rather than manual scarifiers and whether the unit has wheels. Here's a breakdown of the differences between the models in each series:
The GM Series: Pro models include gauge wheels and a leveling rake 
The GS Series: Pro models include gauge wheels and hydraulic scarifiers
The GT Series: Pro models include hydraulic scarifiers and both standard and pro come with gauge wheels
Versatile Machines to Clear and Level Ground
While ground prep attachments are traditionally used to clear, loosen, level and rake to prepare a seedbed, they can be used for other jobs as well. Ground prep attachments are also capable of:
Leveling and resurfacing gravel driveways,
Clearing brush and small trees, and
Grubbing and removing rocks.
Ground prep attachments are versatile pieces of equipment that provide value to a variety of business types including construction, sports fields, golf courses, landfills and landscaping. To learn more about ground preparation for hydroseeding, explore our additional resources or contact a Finn representative today.
Folow Finn Corporation on Social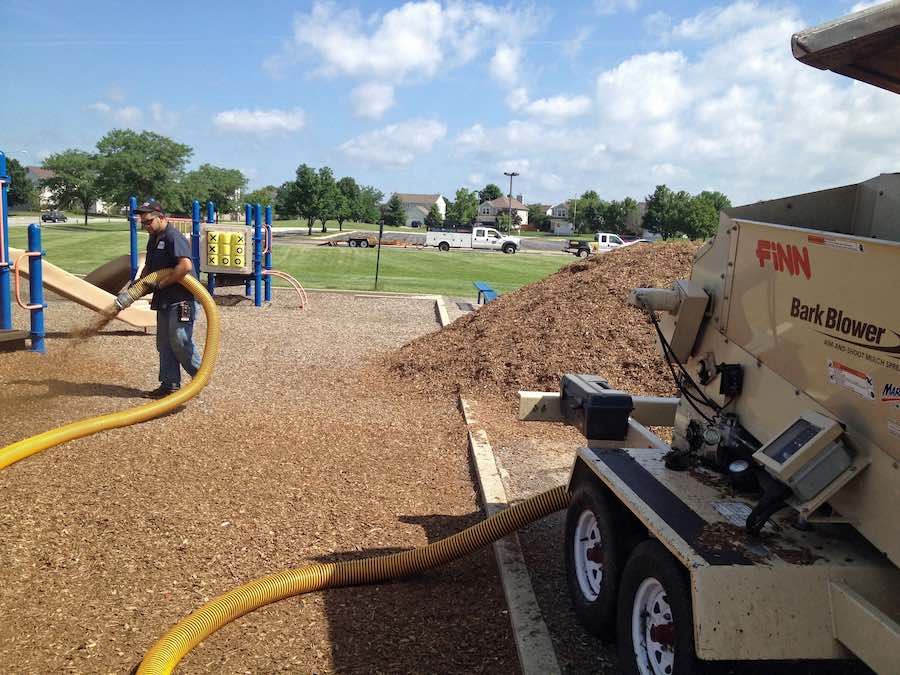 One of the best ways to enhance soil composition, prevent erosion, and improve the aesthetics of any landscaping project is to utilize bark and mulch blowing. For our purposes, bark and mulch blowing are effectively the same thing, and can generally be used interchangeably. Bark and mulch are both great choices to prevent weed growth and invasion, improve soil quality…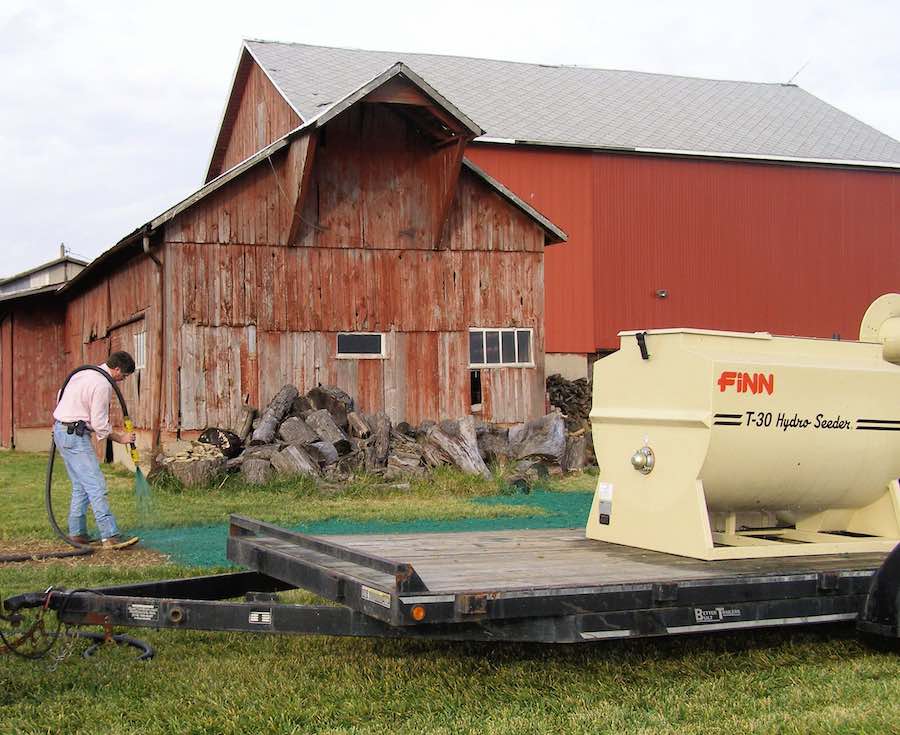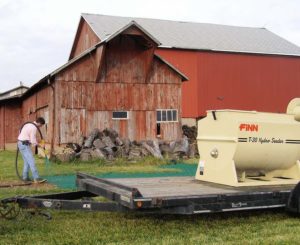 If you're starting a lawn from scratch, you've probably come across the three common methods for seeding: sod, grass seed, and hydroseed. In order to determine the best choice for your yard, you may want to ask yourself a few questions before you get started, and familiarize yourself with each of the processes so you can make the right choice…
If you're looking for a quick and effective way to seed a large area, get a lush, green, and healthy lawn, or re-establish vegetation in an area that's been disrupted by construction activities or wildfire, hydroseeding, or hydromulching as it's also commonly referred, has probably entered your radar. And it's easy to see why — hydroseeding is fast and cost…