Water erosion causes a variety of adverse effects to land and soil, especially the soil's ability to retain water and nutrients. When soil is impacted this way, the land also becomes more susceptible to flooding and soil degradation. This occurs when water sweeps away the topsoil, disrupting and leaving behind only the layers of subsoil, which generally contain fewer of the minerals and nutrients that crops, shrubs, and grasses of all kinds rely on to grow well.
As a result, learning how to prevent water erosion can be one of the most beneficial things you do to protect land from these damaging effects.
How to Stop Water Erosion
Method 1- Planting and Hydroseeding
One of the most important steps you can take to prevent water erosion is to plant in the areas experiencing the most erosion. There are many different kinds of plants to choose from, however trees and shrubs are the heavy lifters when it comes to preventing water erosion of the soil.
Tree roots help stabilize the soil by holding it in place during heavy rains, preventing a lot of runoff that can happen in the rainy months. Shrubs with extensive root systems can also help prevent soil degradation and runoff in a similar way.
Planting any type of vegetation will typically help preserve and retain moisture levels in the soil, and hydroseeding is a great way to plant quickly and effectively. Not only can hydroseeding plant grass seed and other types of seeds, hydroseed methods like sprigging can be used to plant small plants like tree starts and shrubs to go the extra mile for erosion control.
Method 2 – Mulch
Mulching is another effective water erosion solution. By their nature, most mulches are generally absorbent, though how much depends on the type of mulch. Finely-shredded, hard bark mulches are some of the most absorbent mulches available, and can be a great choice to help prevent water erosion. Wood chips can be effective at retaining rainwater and preventing erosion.
Straw mulches are also a great choice to support moisture retention in the soil and protect from raindrop erosion. And with fast, even application from a straw blower like our Finn B 70, helping prevent erosion is easier than ever.
Method 3 – Compost Socks and Erosion Control Berms
Compost socks and erosion control berms can serve a variety of uses, including effectively preventing erosion and are especially well suited to direct or concentrate the flow of rainwater in and around surfaces. These compost-filled mesh tubes can be placed anywhere runoff is heavy to help disperse water as well as filter any runoff. Flexible and easy to use, compost socks provide direct erosion prevention for erosion-prone areas.
Machinery, like our MBH6 Material Blower, is essential to any erosion control strategy, and makes the process of laying down compost socks and berms quick and simple, in any and all conditions so you can address erosion when and where it happens.
Compost socks and berms can also help support areas where planting needs to be done — helping to hold the soil in place and provide stabilization while plant roots establish.
Method 4 – Retaining Walls
If other steps at preventing water erosion haven't provided the amount of soil stabilization and water retention required, a retaining wall can generally do the trick. The most permanent of solutions, retaining walls can be especially useful in sloped areas to establish a soil foundation that's protected from water erosion and runoff.
Berms and socks can offer similar structural support in a less permanent way, however, if the hope is to rely less on a retaining wall or permanent structure at some point in the future.
Method 5 – Diversions and Drainage Ditches
Managing rain water erosion and runoff effectively can also be accomplished by creating pathways for water to divert, or properly drain, from areas that are highly-prone to erosion like steep slopes or embankments. Digging a ditch, shallow trench, or even a french drain may be a useful way to create a water diversion, while gutters and piping can provide a streamlined solution if space is tight.
While there are many erosion control methods, no two solutions will work the same way for each project or parcel of land. For more information about water erosion prevention solutions and tools, contact our experts today.
Folow Finn Corporation on Social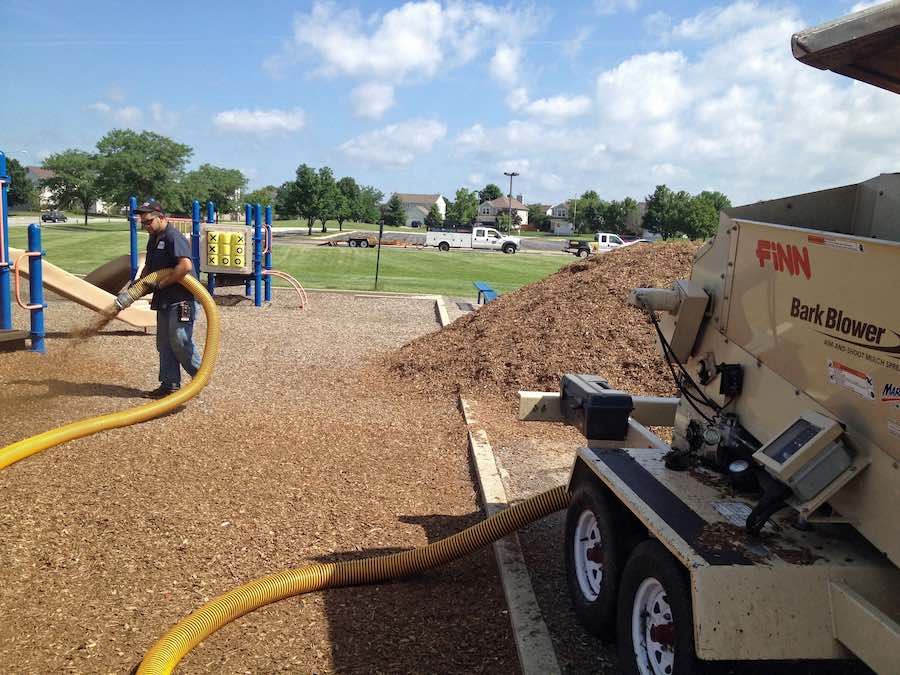 One of the best ways to enhance soil composition, prevent erosion, and improve the aesthetics of any landscaping project is to utilize bark and mulch blowing. For our purposes, bark and mulch blowing are effectively the same thing, and can generally be used interchangeably. Bark and mulch are both great choices to prevent weed growth and invasion, improve soil quality…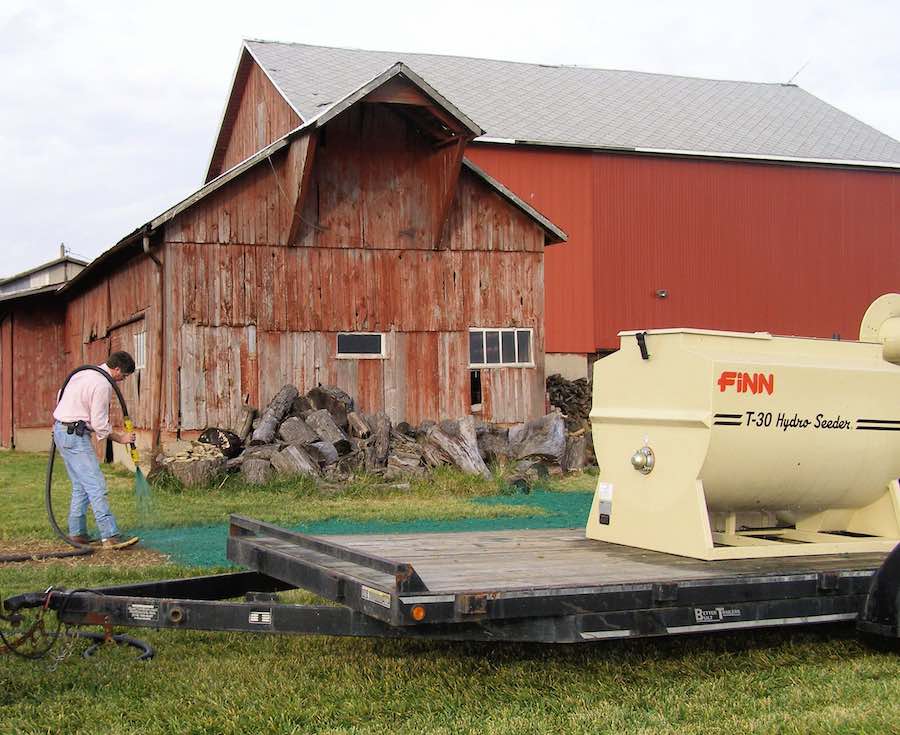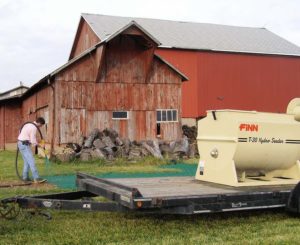 If you're starting a lawn from scratch, you've probably come across the three common methods for seeding: sod, grass seed, and hydroseed. In order to determine the best choice for your yard, you may want to ask yourself a few questions before you get started, and familiarize yourself with each of the processes so you can make the right choice…
If you're looking for a quick and effective way to seed a large area, get a lush, green, and healthy lawn, or re-establish vegetation in an area that's been disrupted by construction activities or wildfire, hydroseeding, or hydromulching as it's also commonly referred, has probably entered your radar. And it's easy to see why — hydroseeding is fast and cost…